In our 2015 World Stem Cell Report, you will find articles and perspectives covering many new initiatives, an editorial, and conversations with leaders in the field. All that, and in addition to, some of the very best updated articles and perspectives previously published in Stem Cells Translational Medicine covering new projects and advancements in the areas of pluripotent stem cells, fetal and neonatal cells, enabling technologies for cell-based clinical translation, tissue engineering, and regenerative medicine. This makes a compelling narrative-depicting sweeping advancements that are changing medicine in the 21st Century.
The 2015 World Stem Cell Report was published as a supplement of Stem Cells Translational Medicine Journal(AlphaMed Press. Impact Factor 5.709).
Interest in Sponsoring the World Stem Cell Report
Contact Alan Fernandez to learn more: alan@regmedfoundation.org, or call (650) 847-1640.
View http://worldstemcellsummit.com/2013-world-cell-report/Previous World Stem Cell Reports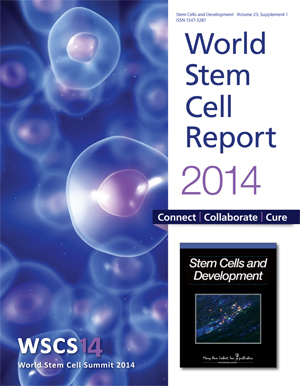 Archived Years: